Natural Prime Crash on Ducati, Rossi Confessing Accidentally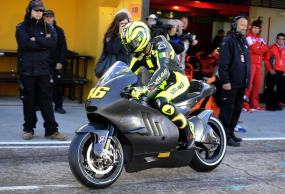 Losail - Valentino Rossi for the first time tasting it was falling from the Ducati Desmosedici. With a joke, he admitted doing it intentionally.

There are two prime things that had just achieved after defending Ducati Rossi. Both he experienced in the official test session in Losail pre-season, on Monday (3/14/2011) morning pm.

This first prime is positive because he was finally able to reach less than a second difference with the fastest racer in the test session.

"Not bad results for the first day (at the Qatar test). I was able to drive a motorcycle with better and I enjoy it," said Rossi in Crash.

"Although I was only in eighth position, my time is not too far from the top. 0.7 seconds is still a big difference, but no matter what it is progress, considering that I had my best time with a tire package that is not new," he explained.

In addition, Rossi also had another first experience, after falling from bike Ducati Desmosedici mainstay in the same session.

"Today I also experienced my first crash on a Ducati, which actually I did on purpose because after some time, you have to fall a little bit," joked Rossi.

"Despite the joke, I actually entered (corner) is too fast and lost control on the front. I can control it and avoid a crash while on the track, but I fell in the gravel. However, I'm all right," continued the ex-rider Yamaha.