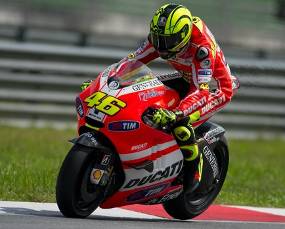 Sepang - Valentino Rossi has not shown his ability at the Sepang MotoGP test. The pain from a shoulder injury to make brand-new Ducati rider had failed to perform optimally.
Rossi ranked 13 in the second day test which took place on Wednesday (02/02/2011). These results are even worse a position than rank 12, which Rossi won the first test day.
There are strong reasons why Rossi has not been well above the maximum Ducati Desmosedici GP11. It was the shoulder injury that plagued the The Doctor along with a broken leg he suffered last year.
"I can ride again today alone is quite important, because the condition of my shoulder is not getting worse while receiving continuous tension," I Rossi in the MotoGP official website.
"All the good when the record time for 2 minutes 3 seconds, then when I try to cut one second, my strength disappeared and the pain increases," said seven-times world champion.
Rossi suffered an injury that appears to be very disturbing to the point that the Italian had predicted that a new injury to fully recover in May, which means the calendar has entered the fourth series in Portugal.
"It takes time, of course. The situation will improve, but we have to wait to May. After that we can work it out with the motor," said Rossi.
"For the moment, what we do is always filled with doubt. Later, when my physical condition is perfect, we want to print a more competitive time," promised the 31-year racer.